Meet the Pastoral Team
Assistant Head - Pastoral
Bev Lee
Assistant Pastoral Manager
Mel Findon
Amber Hill Base PSWS Team
Chantel Walsh
Jamiee-Leigh Burn
John Blomley
Lisa Spring
Baumber Base PSWS Team
Chloe Massingham
Chrissy Learmonth
Lincoln Base PSWS Team
Chloe Bennett
Joe Denton
Kat Shaw
HSPSWS Team (Home Support PSWSs)
Debs Sadler
Gary Fenwick
Jan Hudson
Laura Graham
Lynda Martin
Neil Phillips
Ros Hodge
Serina Smith
Zoe Starkie
Apprentice School Dog
Otto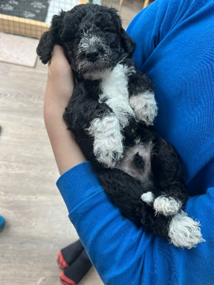 Otto is our apprentice school dog. He was born in April 2022. He is a second generation labradoodle and has been specifically chosen for his temperament and coat. He lives with Bev Lee, our 'Assistant Head Pastoral' and will be shadowing her for his initial training. Otto enjoys meeting people and new doggy friends, running in fields and sleeping. He is showing great potential so far and is looking forward to his future role as a fully-fledged school dog. He is anticipating payment in biscuit form!
Full information can be found here and the school dog policy and risk assessment can be found here.
No photo albums have been added to this gallery yet.